With NVIDIA DRIVE, in-vehicle infotainment, or IVI, is so much more than just giving directions and playing music.
NVIDIA founder and CEO Jensen Huang demonstrated the capabilities of a truly IVI experience during today's GTC keynote. Using centralized, high-performance compute, the NVIDIA DRIVE Concierge platform spans traditional cockpit and cluster capabilities, as well as personalized, AI-powered safety, convenience and entertainment features for every occupant.
Drivers in the U.S. spend an average of nearly 450 hours in their car every year. With just a traditional cockpit and infotainment display, those hours can seem even longer.
DRIVE Concierge makes time in vehicles more enjoyable, convenient and safe, extending intelligent features to every passenger using the DRIVE AGX compute platform, DRIVE IX software stack and Omniverse Avatar Cloud Engine (ACE).
These capabilities include crystal-clear graphics and visualizations in the cockpit and cluster, intelligent digital assistants, driver and occupant monitoring, and streaming content such as games and movies.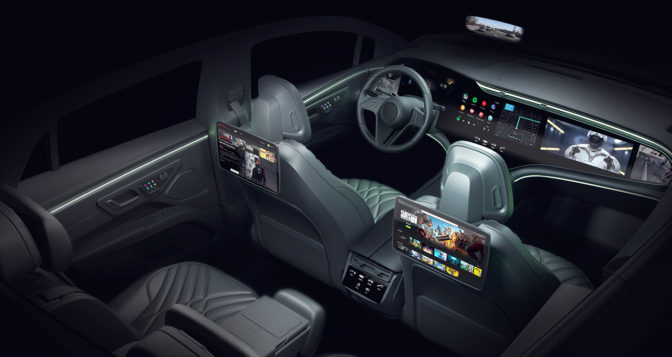 Cockpit Capabilities
By running on the cross-domain DRIVE platform, DRIVE Concierge can virtualize, as well as host, multiple virtual machines on a single chip — rather than distributed computers — for streamlined development.
With this centralized architecture, DRIVE Concierge seamlessly orchestrates driver information, cockpit and infotainment functions. It supports the Android Automotive operating system, so automakers can easily customize and scale their IVI offerings.
And digital cockpit and cluster features are just the beginning. DRIVE Concierge extends this premium functionality to the entire vehicle, with world-class confidence view, video-conferencing capabilities, digital assistants, gaming and more.
Visualizing Intelligence
Speed, fuel range and distance traveled are key data for human drivers to be aware of. When AI is at the wheel, however, a detailed view of the vehicle's perception and planning layers is also crucial.
DRIVE Concierge is tightly integrated with the DRIVE Chauffeur platform to provide high-quality, 360-degree, 4D visualization with low latency. Drivers and passengers can always see what's in the mind of the vehicle's AI, with beautiful 3D graphics.
This visualization is critical to building trust between the autonomous vehicle and its passengers, so occupants can be confident in the AV system's perception and planned path.
How May AI Help You?
In addition to revolutionizing driving, AI is creating a more intelligent vehicle interior with personalized digital assistants.
Omniverse ACE is a collection of cloud-based AI models and services for developers to easily build, customize and deploy interactive avatars.
With ACE, AV developers can create in-vehicle assistants that are easily customizable with speech AI, computer vision, natural language understanding, recommendation engines and simulation technologies.
These avatars can help make recommendations, book reservations, access vehicle controls and provide alerts for situations like if a valuable item is left behind.
Game On
With software-defined capabilities, cars are becoming living spaces, complete with the same entertainment available at home.
NVIDIA DRIVE Concierge lets passengers watch videos and experience high-performance gaming wherever they go. Users can choose from their favorite apps and stream videos and games on any vehicle screen.
By using the NVIDIA GeForce NOW cloud gaming service, passengers can access more than 1,400 titles without the need for downloads, benefitting from automatic updates and unlimited cloud storage.
Safety and Security
Intelligent interiors provide an added layer of safety to vehicles, in addition to convenience and entertainment.
DRIVE Concierge uses interior sensors and dedicated deep neural networks for driver monitoring, which ensures attention is on the road in situations where the human is in control.
It can also perform passenger monitoring to make sure that occupants are safe and no precious cargo is left behind.
Using NVIDIA DRIVE Sim on Omniverse, developers can collaborate to design passenger interactions with such cutting-edge features in the vehicle.
By tapping into NVIDIA's past heritage of infotainment technology, DRIVE Concierge is revolutionizing the future of in-vehicle experiences.
The post Experience the Future of Vehicle Infotainment: NVIDIA DRIVE Concierge Brings Customized AI to Every Seat appeared first on NVIDIA Blog.