Not so long ago, searching for information could lead to a library to scan endless volumes or even tediously sift through microfilm. Clearly, technology is making the world a better place.
Scientists, researchers, developers and companies have been on a quest to solve some of the world's most pressing problems. Only now they're accelerating their efforts by putting NVIDIA GPU-driven AI to work.
And the benefits can be seen across critical global issues such as COVID-19 and climate change, to education and employment. Below is just some of the amazing work of 2021.
Accelerating COVID-19 Research
In 2021, medical researchers were able to accelerate vaccine discovery results to months instead of years. Advances in NVIDIA GPUs, AI and specialized software helped find the way.
Many played a part. Leading research institutions began harnessing NVIDIA GPUs to drive their work in cryo-electron microscopy, a technique used to study the structure of molecules — such as the spike proteins on the COVID-19 virus — and accelerate drug and vaccine discovery.
Highlighting this technological shift, four teams used NVIDIA accelerated computing and AI platforms to win spots as finalists for a Gordon Bell award or a special Gordon Bell prize for COVID research.
Modeling Climate Change 
Scientists are modeling climate change. As polar caps melt, one recent effort aims to predict sea ice loss. But what if you could accurately model the entire Earth's change over time, using physics-based models and high-resolution graphics to show regional changes?
NVIDIA at GTC shared plans for creating a digital twin of Earth in Omniverse. The effort promises the world's most powerful AI supercomputer, Earth-2, dedicated to forecasting the impacts of climate change.
With extreme weather events on the rise, climate-related disasters are increasingly threatening property and lives.
Speeding Disaster Detection
For the 2021 wildfire season in the U.S., the total damage and cumulative economic loss is predicted to be between $70 billion and $90 billion, according to AccuWeather. And floods cause more than $40 billion in damages worldwide a year, according to the Organization for Economic Cooperation and Development.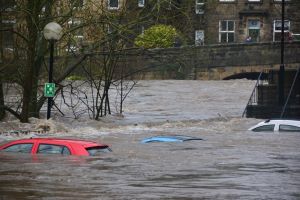 The human toll, in lives lost and livelihoods upended, has been devastating as well.
Flood detection models can help people in threatened zones evacuate to safety in time during heavy rains. Fire detection AI can help stop the spread of fires, prevent further air pollution and loss of trees and homes.
Creating Employment Equity 
The United Nations, citing the impact of technological advances on the labor market, has helped developed a strategy on the future of work that sets goals for decent and inclusive growth in work.
Data science startup Sama is committed to creating employment opportunities for underserved communities. The company's market-leading data annotation platform, accelerated by NVIDIA GPUs, gives its customers an opportunity to partner with a socially responsible business and work with underserved communities.
Sama has about 4,000 employees with benefits working from East Africa to support its platform.
In addition to the social benefits of helping reduce inequality, Sama aims to address data bias. Creating diverse datasets can help ensure that AI models can be trained so that features work for everyone, helping mitigate risks for companies deploying them.
Helping Teach Students
Younger generations need to develop the skills, especially in STEM fields, to tackle these challenges. AI can help.
For example, U.S. math students rank 31st in the world, according to the Organization for Economic Cooperation and Development. To improve classroom engagement, a research team backed by the National Science Foundation has been developing AI to assist math teachers.
The effort has been tested in Colorado public schools, where it uses AI to analyze teachers' use of discussion techniques as well as students' responses. The AI-driven software offers instructors feedback that they can use for follow-up.
Separately, students are also learning AI. NVIDIA and the Boys & Girls Clubs of Western Pennsylvania are partnering on an effort to bring hands-on AI education to youth in clubs across the U.S. Among the first to adopt the program is the Boys & Girls Clubs of Hudson County, where students this summer learned how to build AI projects to aid Alzheimer's patients and monitor pedestrian safety using NVIDIA Jetson Nano 2GB developer kits.
The school teaching aid and the Boys & Girls program are just a few of the examples displaying AI's promise as a positive impact on education.
The post 5 Ways AI Aimed to Improve the World in 2021 appeared first on The Official NVIDIA Blog.