We're celebrating a milestone this week with 500 RTX games and applications utilizing NVIDIA DLSS, ray tracing or AI technologies. It's an achievement anchored by NVIDIA's revolutionary RTX technology, which has transformed gaming graphics and performance.
The journey began in 2018 at an electrifying event in Cologne. In a steel and concrete music venue amidst the city's gritty industrial north side, over 1,200 gamers, breathless and giddy, erupted as NVIDIA founder and CEO Jensen Huang introduced NVIDIA RTX and declared, "This is a historic moment … Computer graphics has been reinvented."
This groundbreaking launch, set against the backdrop of the world's largest gaming expo, Gamescom, marked the introduction of the GeForce RTX 2080 Ti, 2080 and 2070 GPUs.
The most technically advanced games now rely on the techniques that RTX technologies have unlocked.
Ray tracing, enabled by dedicated RT Cores, delivers immersive, realistic lighting and reflections in games.
The technique has evolved from games with only a single graphics element executed in ray tracing to games such as Alan Wake 2, Cyberpunk 2077, Minecraft RTX and Portal RTX that use ray tracing for all the light in the game.
And NVIDIA DLSS, powered by Tensor Cores, accelerates AI graphics, now boosting performance with DLSS Frame Generation and improving RT effects with DLSS Ray Reconstruction in titles like Cyberpunk 2077: Phantom Liberty.
Beyond gaming, these technologies revolutionize creative workflows, enabling real-time, ray-traced previews in applications that once required extensive processing time.
Ray tracing, a technique first described in 1969 by Arthur Appel, mirrors how light interacts with objects to create lifelike images.
Ray tracing was once limited to high-end movie production. NVIDIA's RTX graphics cards have made this cinematic quality accessible in real-time gaming, enhancing experiences with dynamic lighting, reflections and shadows.
High engagement rates in titles like Cyberpunk 2077, NARAKA: BLADEPOINT, Minecraft with RTX, Alan Wake 2 and Diablo IV, where 96% or higher of RTX 40 Series t gamers use RTX ON, underscore this success.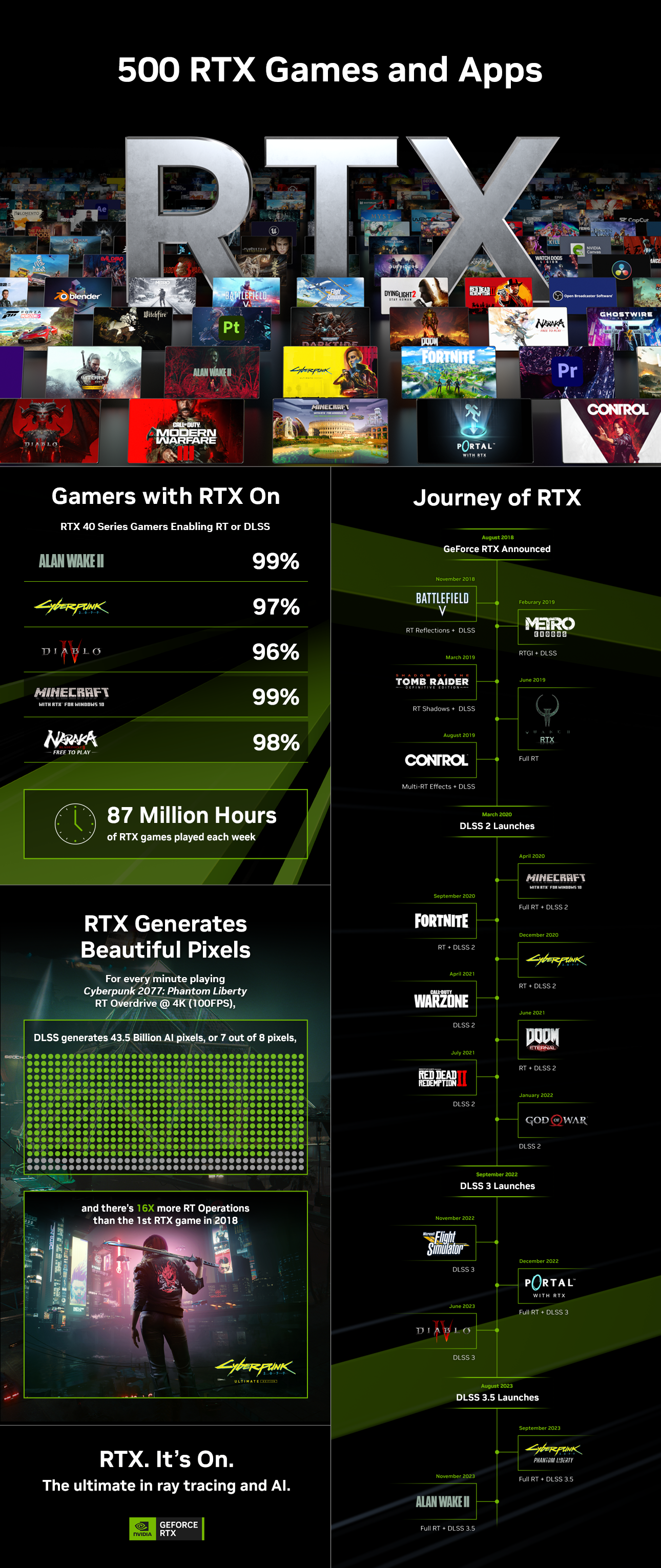 To commemorate this milestone, 20 $500 Green Man Gaming gift cards and exclusive #RTXON keyboard keycaps are up for grabs. Participants must follow GeForce's social channels and comply with the sweepstakes rules.
Stay tuned for more RTX 500 giveaways.
NVIDIA's advancement from the first RTX graphics card to powering 500 RTX games and applications with advanced technologies heralds a new gaming and creative tech era. And NVIDIA continues to lead, offering unparalleled experiences in gaming and creativity.
Stay tuned to GeForce News for more updates on RTX games and enhancements.