We are excited to announce the top 10 compositions and the winner for the AWS DeepComposer Chartbusters Bach to the Future challenge. AWS DeepComposer gives developers a creative way to get started with machine learning. Chartbusters is a monthly challenge where you can use AWS DeepComposer to create original compositions and compete to top the charts and win prizes. The first challenge, Bach to the Future, required developers to use a new generative AI algorithm provided on the AWS DeepComposer console to create compositions in the style of Bach. It was an intense competition with high-quality submissions, making it a good challenge for our judges to select the chart-toppers!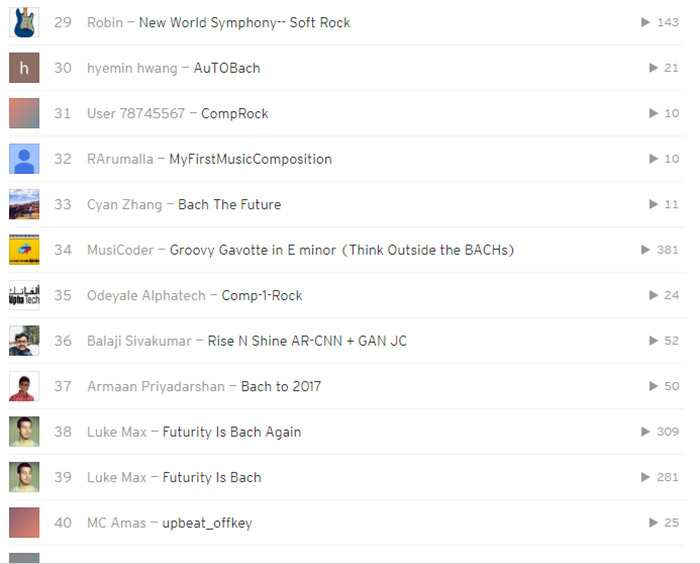 Top 10 compositions
First, we shortlisted the top 20 compositions by using a total of customer likes and count of plays on SoundCloud. Then, our human experts (Mike Miller and Gillian Armstrong) and the AWS DeepComposer AI judge evaluated compositions for musical quality, creativity, and emotional resonance to select the top 10 ranked compositions.
The winner for the Bach to the Future challenge is… (cue drum roll) Catherine Chui! You can listen to the winning composition on SoundCloud. The top 10 compositions for the Bach to the Future challenge are:
You can listen to the playlist featuring the top 10 compositions on SoundCloud or on the AWS DeepComposer console.
The winner, Catherine Chui, will receive an AWS DeepComposer Chartbusters gold record. Catherine will be telling the story of how she created this tune and the experience of getting hands on with AWS DeepComposer in an upcoming post, right here on the AWS ML Blog.
Congratulations, Catherine Chui!
It's time to move onto the next Chartbusters challenge — Spin the Model. The challenge launches today and is open until August 23, 2020. For more information about the competition and how to participate, see Announcing the AWS DeepComposer Chartbusters Spin the Model challenge.
---
About the Author

Jyothi Nookula is a Principal Product Manager for AWS AI devices. She loves to build products that delight her customers. In her spare time, she loves to paint and host charity fund raisers for her art exhibitions.