Editor's note: This post is part of our weekly In the NVIDIA Studio series, which celebrates featured artists, offers creative tips and tricks, and demonstrates how NVIDIA Studio technology improves creative workflows. We're also deep diving on new GeForce RTX 40 Series GPU features, technologies and resources, and how they dramatically accelerate content creation.
With over 900,000 subscribers on her YouTube channel, editor and filmmaker Sara Dietschy creates docuseries, reviews and vlogs that explore the intersection of technology and creativity. The Los Angeles-based creator shares her AI-powered workflow this week In the NVIDIA Studio, and it's just peachy — a word that happens to rhyme with her last name.
Dietschy explained in a recent video how five AI tools helped save over 100 hours of work, powered by NVIDIA Studio technology.
"If you do any kind of 3D rendering on the go, a dedicated NVIDIA RTX GPU is nonnegotiable." — Sara Dietschy
She shows a practical approach to how these tools, running on laptops powered by GeForce RTX 40 Series GPUs, tackle the otherwise manual work that can make nonlinear editing tedious. Using tools like AI Relighting, Video Text Editing and more in Davinci Resolve software, Dietschy saves time on every project — and for creators, time is money, she said.
The NVIDIA Studio team spoke with Dietschy about how she uses AI, how technology can simplify artists' processes, and how the NVIDIA Studio platform supercharged her creativity and video-editing workflows.
Studio team: What AI features do you use most commonly?
Dietschy: In DaVinci Resolve, there's neural engine text-based editing, automatic subtitles, Magic Mask and Detect Scene Cuts — all AI-powered features I use daily. And the relighting feature in DaVinci Resolve is crazy good.
In addition, ChatGPT and Notion AI sped up copywriting for my website and social media posts, so I could focus on video editing.
Studio team: How do you use Adobe Premiere Pro? 
Dietschy: In the beta version, my entire video can be transcribed quickly, and Premiere Pro can even detect silence. Just click on the three dots in the text, hit delete and boom — AI conveniently edits out that awkward pause. No need for me to hop back and forth.
Plus, Auto Reframe and Unsharp Mask are popular AI features in Premiere Pro that are worth looking into.
Studio team: What prompted the regular use of AI-powered tools and features? 
Dietschy: My biggest pet peeve is when a program offers really cool features but requires uploading everything to a web app or starting a completely new workflow. Once these features were made available directly in the apps I already use, things became so much more efficient, which is why I now use them on the daily.
Studio team: For the non-technical people out there, why does GPU acceleration in creative apps matter?
Dietschy: For video editors, GPU acceleration — which is basically a graphics card making the features and effects in creative apps faster — especially in DaVinci Resolve, is everything. It scrubs through footage and playback, and crushes export times. This ASUS Zenbook Pro 14 OLED Studio laptop exported a recent hour-plus-long 4K video in less than 14 minutes. If you release new content every week, like me, time saved is gold.
Studio team: Would you recommend GeForce RTX GPUs to other video editors?
Dietschy: Absolutely. A big unlock for me was getting a desktop computer with a nice processor and an NVIDIA GPU. I was just amazed at how much smoother things went.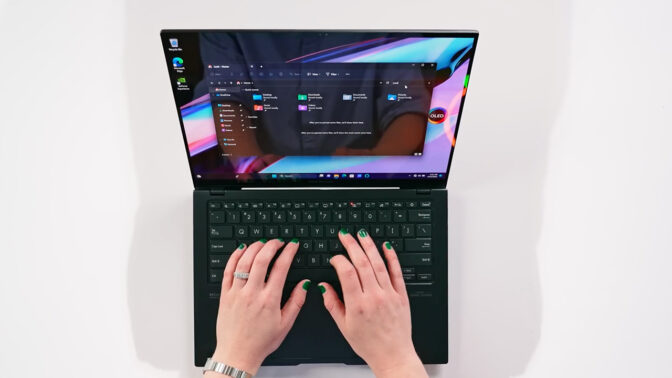 Studio team: If you could go back to the beginning of your creative journey, what advice would you give yourself?
Dietschy: Don't focus so much on quantity. Instead, take the time to add structure to your process, because being a "messy creative" only seems cool at first. Organization is already paying crazy dividends in better sleep and mental health.
For more AI insights, watch Dietschy's video on the dozen-plus AI tools creators should use:
Find more on Sara Dietschy's YouTube channel.
Follow NVIDIA Studio on Instagram, Twitter and Facebook. Access tutorials on the Studio YouTube channel and get updates directly in your inbox by subscribing to the Studio newsletter.