If Wednesday is hump day, GFN Thursday is the new official beginning of the weekend. We have a great lineup of games streaming from the cloud this week, with more details on that below.
This GFN Thursday also spotlights some of the games using NVIDIA RTX tech, including a sweet six-pack that you'll want to check out (okay, you've probably already played Cyberpunk 2077, but you get the idea).
What Is RTX?
NVIDIA RTX GPUs introduced real-time ray tracing and AI to PC gaming.
Ray tracing provides realistic lighting by simulating the physical behavior of light, adding cinematic-quality rendering to scenes in a game. Normally these effects are computationally expensive, but RTX GPUs' dedicated hardware allows for ray-tracing acceleration in real time.
Real-time ray tracing is only one benefit, though. NVIDIA DLSS provides GeForce NOW the performance headroom to maximize visual settings, while maintaining smooth frame rates, and stream those benefits to members.
RTX On Any Device
When a game joins GeForce NOW with RTX support, Founders members can play with cinematic, real-time ray tracing and NVIDIA DLSS support — even on devices that don't have an RTX-capable GPU. That means adding RTX ON on your Macbook Air. Love your Chromebook and Android phone but wish they could play the latest games? Thanks to the cloud, they can.
Last week, we announced that the Outriders demo would launch on GeForce NOW later this month. Paired with last month's announcement of a technical partnership, it means PC gamers, GeForce RTX users and GFN members will get the best possible experience.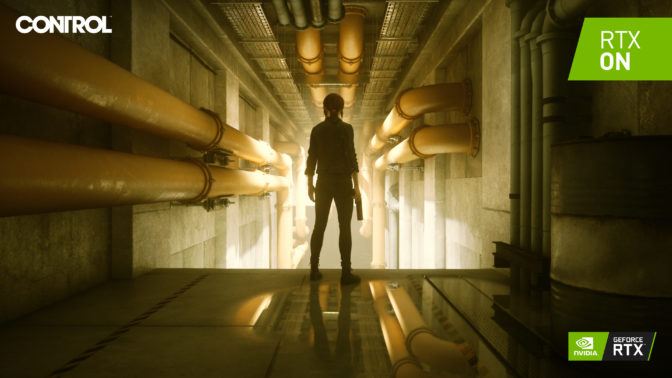 The GeForce NOW library already supports some of the best examples of RTX ON available in gaming. Here are six amazing games that you can play in unprecedented graphical glory across all of your devices, right now:
These RTX ON favorites deserve to be played if they're sitting in your backlog, and GeForce NOW Founders members can play them with real-time ray tracing across any of their supported devices.
And with GeForce NOW, there's always more.
Our friends at Cloud Gaming Xtreme take a look at even more of the RTX-enabled games on GeForce NOW.
Let's Play Today
No GFN Thursday is complete without new additions to the GeForce NOW Library. Here are a few highlights, and check out the full list below.
Everspace (Steam)

Everspace combines fast-paced combat with roguelike elements, great visuals and a captivating story. It takes gamers on a challenging journey through an ever-changing, beautifully crafted universe full of surprises. Shoot, craft and loot your way to victory while the odds are stacked against you.

Legend of Heroes In The Sky: Trials of Cold Steel III (Steam)

Experience an epic story developed across three titles, and crafted for new and old fans alike. Also includes an interactive introduction to catch up new players to the ongoing story so anyone can dive right in to the world of Trails of Cold Steel.

South Park: The Fractured But Whole (Steam)

Spend your staycation exploring South Park with Cartman, Kyle, Kenny and Stan by playing through South Park: The Stick of Truth and the newly added sequel, South Park: The Fractured But Whole. From the creators of South Park, Trey Parker and Matt Stone, both games are routinely found their way onto RPG of the Year lists.

In addition, members can look for the following:
What are you planning to play this weekend? Let us know on Twitter or in the comments below.
The post GFN Thursday Shines Ray-Traced Spotlight on Sweet Six-Pack of RTX Games appeared first on The Official NVIDIA Blog.
Read More