We'd wake you up when September ends, but then you'd miss out on a whole new set of games coming to GeForce NOW.
Gear up for 22 games joining the GeForce NOW library, with 19 day-and-date releases including action role-playing game Steelrising. Playing them all will take some serious strategy.
And build the perfect Minifigure Fighter in LEGO Brawls, one of 10 new additions streaming this week.
Finally, did you hear? The 2.0.44 update, starting to roll out now and continuing over the next week, is bringing new audio modes to the PC and Mac apps. Priority members can experience support for 5.1 Surround sound, and GeForce NOW RTX 3080 members can enjoy support for both 5.1 and 7.1 surround sound.
Vive les Video Games
The revolution is streaming from the cloud. GeForce NOW brings 22 new titles in September to nearly all devices. Steel yourself for the challenging action-RPG Steelrising, arriving later this month at launch with RTX ON.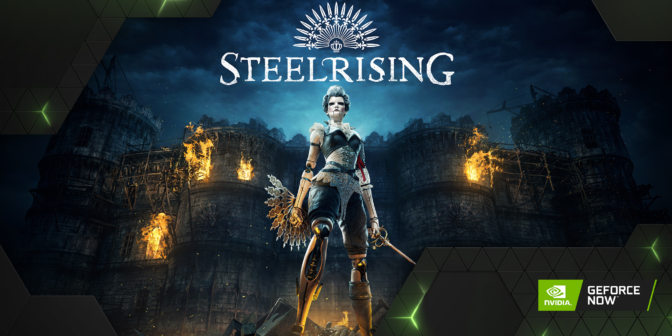 Play as Aegis, a mechanical masterpiece, and save France from the madness of King Louis XVI and his army of mechanical soldiers. String together dodges, parries, jumps and devastating attacks to fight through Paris. Encounter allies and enemies in historical figures like Marie Antoinette, Lafayette, Robespierre and more.
Lead the revolution across low-end PCs, Macs and mobile phones. Experience Steelrising with beautiful, cinematic graphics turning RTX ON and take cloud gaming to the next level by upgrading to the RTX 3080 membership, streaming at 4K resolution on PC and Mac native apps.
Check out the full list of games coming in September:
Have a Brawl This Week
The September gaming fun starts with 10 new games streaming this week, including tomorrow's release of LEGO Brawls, streaming on GeForce NOW for PC, macOS, and Chrome OS and web browsers.
Dream up the ultimate LEGO Minifigure brawlers and bash your way into the first team-action brawler set in the LEGO universe. Design heroes with unique styles, strategies and personalities — and level them up for unlockable content. Team up and brawl 4v4, party with friends or play in a battle-royale-style game mode to beat the competition. With ultra-low latency, there's no need to worry about lagging behind.
Catch the complete list of games streaming this week: 
Additional August Arrivals
On top of the 38 games announced last month, an extra four came to the cloud in August: 
One game announced last month, Mondealy (Steam), didn't make it due to a shift in the release date.
With all of these sweet new games to play, we want to know what snack is powering your gaming sessions up. Let us know on Twitter or in the comments below.
What is your go-to snack while playing games?

— NVIDIA GeForce NOW (@NVIDIAGFN) August 31, 2022
The post GFN Thursday Slides Into September With 22 New Games appeared first on NVIDIA Blog.