Featuring stunning visuals from futuristic interstellar worlds, including colossal sand creatures, Dune captivated audiences around the world.
The sci-fi film picked up six Oscars last month at the 94th Academy Awards, including for Best Sound and Visual Effects. Adapted from Frank Herbert's 1965 novel of the same name, Dune tells the story of Paul Atreides, a heroic character whose family travels to the dangerous planet of Arrakis.
To bring the story to life, now seven-time Academy Award-winning studio DNEG used a blend of practical and visual effects, creating spectacular graphics that capture the dystopian worlds of Dune.
The film's production visual effects supervisor, Paul Lambert, said that his focus was on seamlessly augmenting or enhancing what was already accomplished with the beautiful production design and cinematography — grounding the visual effects in reality. DNEG contributed to 28 sequences and over 1,000 VFX shots in the film, and the artists worked from multiple locations using NVIDIA RTX Virtual Workstations.
A Mix of Sand and Simulations
Sand, inevitably, was going to play a major part in Dune, and 18 tons of it were used to make the film. But the VFX team also digitally replicated every aspect of it to perfectly blend simulated sand into the shots.
"One of the things we came up against early on was getting that essence of scale," said Paul Salvini, global CTO of DNEG. "In simulations, each grain of sand is literally the size of a pixel, which means we needed huge volumes of sand, and that turned into petabytes of data."
Beyond replicating the look and feel of sand, the team needed to realistically capture its movement. This became even more challenging when it came to finding a way to depict massive sandworms moving through the desert.
The artists spent months building, modeling and sculpting the creature into shape. They took inspiration from baleen whales — months of research revealed that when a colossal object moves through sand, the environment around it behaves like water, similar to how a whale moves through the ocean.
DNEG then simulated each sand particle to see how it would cascade off a sandworm, or how the dunes would ripple as the creature moved around. For the latter, the practical effects team created a sand-displacement effect by placing a vibrating metal plate under real sand, and the VFX team expanded it to simulate the effect on a much larger scale.
"It's tricky to do, because it's super complex and computationally expensive to figure out how one grain of sand is connected to another grain — and have all of this act on a massive scale," said Salvini. "It was an iterative process, and it takes a long time to actually simulate all of these particles."
DNEG used a combination of Dell Precision workstations and Dell PowerEdge R740 servers with NVIDIA RTX and server GPUs to iterate quickly and make changes, ensuring the simulations with the sandworm looked realistic.
To add more realism to the creature, the artists looked to the bristly teeth of baleen whales. The VFX team modeled different versions of the teeth and used a scattering system in the Houdini app, which allowed them to populate the worm's mouth at render time.
Using Isotropix Clarisse and NVIDIA RTX, DNEG artists rendered graphics in hours instead of days. This allowed them to receive feedback on the visuals nearly instantly. It also helped increase their number of iterations, enabling final shots and high-quality images at a much quicker pace.
Enhancing Production Workflows With Virtualization
DNEG was one of the first studios to implement NVIDIA virtual GPUs at scale with NVIDIA RTX Virtual Workstation software. NVIDIA RTX-powered virtual workstations deliver incredible flexibility, allowing DNEG to adjust the number of users on a particular server based on the current workload.
Virtual machines are also cost effective. As newer GPUs and expanded software packages enter the data center, DNEG can deploy these to its users to maintain optimal performance for each artist.
"To give our artists more compute power, we can easily increase NVIDIA vGPU profile sizes and reduce the number of users we put on each server," said Daire Byrne, global head of systems at DNEG. "We don't need to replace any equipment to keep working with maximum performance."
And because creators can securely log into RTX-powered virtual workstations from anywhere in the world, DNEG artists can work remotely, while still maintaining high productivity.
"Every show we get is different from the last, and NVIDIA RTX Virtual Workstations let us scale the memory and performance characteristics up or down to meet the needs of our artists," said Byrne.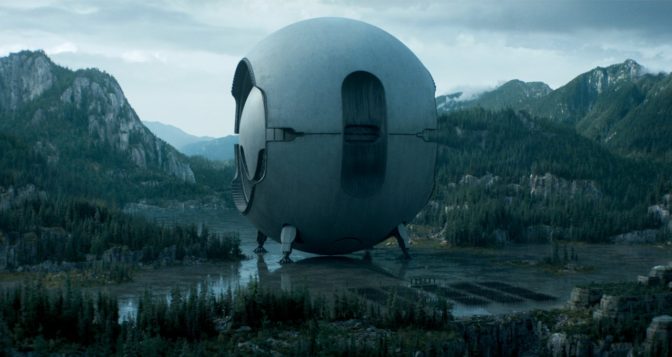 Living in the Future of Virtual Worlds
DNEG continues its pioneering work with NVIDIA Omniverse Enterprise as the studio looks to the future of connected, collaborative workflows.
"The virtual world is where filmmaking is going," said Salvini. "We now have advanced tools and technologies that are capable of delivering photorealistic virtual environments and digital characters, allowing us to create incredible, beautiful stylized worlds."
With the shift toward real-time technology and more seamless, collaborative content creation pipelines, DNEG sees greater opportunities to interact with the filmmakers and art teams across the globe. This will allow for many more iterations to accomplish artistic goals in a fraction of the time.
DNEG uses Omniverse Enterprise with Dell Precision workstations with NVIDIA RTX A6000 GPUs, and Dell PowerEdge R7525 servers with NVIDIA A40 GPUs.
Learn more about how DNEG is transforming global film production workflows in the studio's GTC session, now available on demand.
The post How DNEG Helped Win Another Visual-Effects Oscar by Bringing 'Dune' to Life With NVIDIA RTX appeared first on NVIDIA Blog.