AWS is excited to announce the winner of the AWS DeepComposer Chartbusters Track or Treat challenge, Greg Baker. AWS DeepComposer gives developers a creative way to get started with machine learning (ML). In June 2020, we launched Chartbusters, a global competition in which developers use AWS DeepComposer to create original AI-generated compositions and compete to showcase their ML skills. Developers of all skill levels can train and optimize generative AI models to create original music. The Track or Treat challenge, which ran in October 2020, challenged developers to create Halloween-themed compositions using the AWS DeepComposer Music studio.
Greg Baker, a father of two in Sydney, Australia, works as a CTO for several startups to help build out their technology infrastructure. He has a background in mathematics, and teaches courses in ML and data science. One of his friends first introduced him to how he could combine mathematics with ML, and this became his starting point for exploring ML.
We interviewed Greg to learn about his experience competing in the Track or Treat Chartbusters challenge, and asked him to tell us more about how he created his winning composition.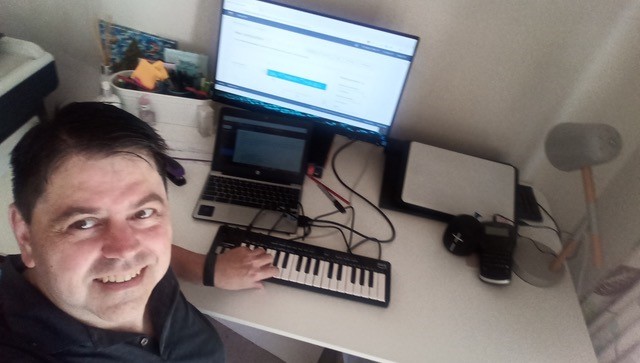 Greg Baker at his work station
Getting started with generative AI
Before entering the Chartbusters challenge, one of Greg's earliest projects in ML was during an ML meetup in Australia. Participants were tasked with presenting something they had worked on in generative AI. Greg created a model that tried to learn how to handwrite words through an optical character recognition (OCR) system.
"I had a system that generated random scribbled letters and fed them through an OCR system to try and make sense of it," Greg says. "I sent it to the OCR system and the OCR system gives a percentage probability of what it might be. And my goal with the system was to produce something that could learn how to do handwriting that could be read."
Greg ended up not pursuing the project.
"It could sort of get the letter L, and that's all it could learn to write. It didn't work very well; it was 7,000 iterations to learn the letter L. I had grand plans about how it was going to learn to write Chinese and learn the history of hieroglyphics, but it couldn't do a thing," laughed Greg. "It was so embarrassingly bad; I sort of buried it afterwards."
Greg happened to find AWS DeepComposer on the AWS Console through his work. He was intrigued with AWS DeepComposer, because in addition to his passion in mathematics and ML, Greg has worked as a professional musician.
"The highlight of my music career so far has been jamming with the Piano Guys at the Sydney Opera House. I also worked as a pipe organ building apprentice for a while, so I have a bit of practice in making spooky music!"
Greg spent time in the AWS DeepComposer Music studio and through his interest in music and ML, decided to compete in the Chartbusters challenge.
Building in AWS DeepComposer
In Track or Treat, developers were challenged to compose music using spooky instruments in the AWS DeepComposer Music Studio. Greg created two compositions throughout his process. First, he created a composition to get a handle of the AWS DeepComposer keyboard. Then, he worked on his second composition using the autoregressive convolutional neural network model to make his composition as spooky as possible.
"I knew that to do something spooky, I wanted it to be as low as possible and in a minor key. The AWS keyboard goes down to F, so I played a few notes in F minor, and then echoed them starting on a B flat, and then did a few variant notes starting on F again."
Greg composing his melody
Greg's favorite feature on the AWS DeepComposer console is the autoregressive convolutional neural network (AR-CNN) model. The AR-CNN technique works by adding and removing notes from the input track provided. Adjusting the hyperparameters further controls how the model edits the melody. Developers can also use the Edit melody feature to collaborate iteratively with the technique. Learn more about generating compositions using the AR-CNN model.
Greg explains how the model can take a couple notes and generate a musical composition that, upon hearing, you would not know was generated by a machine.
"If you heard it in a concert you wouldn't guess it was automatically composed. There are options to make the autoregressor very experimental, which I turned way down in the opposite direction so that DeepComposer would be very conservative and follow all the rules that my music theory teachers drilled into me. I wanted to make it feel very classical—like it was written in the same era that Shelley was writing Frankenstein."
You can listen to Greg's winning composition, "Halloween," on the AWS DeepComposer SoundCloud page.
What's next
In the future, Greg hopes to see more bridges between music creation, artificial intelligence, and generative AI. With AWS DeepComposer, developers can create original music using generative AI which opens the door to an entire world of human and computer creativity. Greg hopes this challenge encourages more people with no background in music to become creators using AI.
"Computing is one of those enabling technologies that lets individuals, wherever they are, create in the world and create things of value […] What I'm hoping is that this will expand the scope of people who can take some joy in composing. At the moment, it's not something everyone can do, but creating new music is such a wonderful feeling that I wish more people could experience it."
Greg felt that the Chartbusters challenge nurtured his desire to be a creator and builder through creating a lasting piece of music. From developers who have no background in music composition, to developers who are experienced in music composition, anyone can enjoy the process of building and creating in AWS DeepComposer and listen to the final compositions created from the Chartbusters challenge.
"I'm not a very competitive person […] but setting algorithms to compete against each other seems like a fun thing to do. The Chartbusters competition is interesting because at the end of it, you have a piece of music that everyone can enjoy regardless of whether you win or lose. So it's not so much about competing as creating."
What's next for Greg in ML? Building a model to predict his weight.
"I just recently created a machine learning model to predict my weight, based on how often I'm going running. I wasn't really getting anywhere for most of this year—I was actually going backwards—but since I won the Chartbusters challenge and put together my prediction model, I'm beginning to make some progress."
Congratulations to Greg for his well-deserved win!
We hope Greg's story has inspired you to learn more about ML and get started with AWS DeepComposer. Check out the next AWS DeepComposer Chartbusters challenge, and start composing today.
---
About the Author
Paloma Pineda is a Product Marketing Manager for AWS Artificial Intelligence Devices. She is passionate about the intersection of technology, art, and human centered design. Out of the office, Paloma enjoys photography, watching foreign films, and cooking French cuisine.