More than 800 students from over 100 universities around the world joined NVIDIA as the first class of our virtual internship program — I'm one of them, working on the corporate communications team this summer.
Shortly after the pandemic's onset, NVIDIA decided to reinvent its internship program as a virtual one. We've been gaining valuable experience and having a lot of fun — all through our screens.
Fellow interns have contributed ideas to teams ranging from robotics to financial reporting. I've been writing stories on how cutting-edge tech improves industries from healthcare to animation, learning to work the backend of the company newsroom, and fostering close relationships with some fabulous colleagues.
And did I mention fun? Game show and cook-along events, a well-being panel series and gatherings such as book clubs were part of the programming. We also had several swag bags sent to our doorsteps, which included a customized intern company sweatshirt and an NVIDIA SHIELD TV.
Meet a few other interns who joined the NVIDIA family this year:
Amevor Aids Artists by Using Deep Learning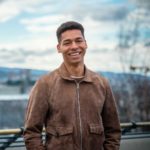 Christoph Amevor just graduated with a bachelor's in computational sciences and engineering from ETH Zurich in Switzerland.
At NVIDIA, he's working on a variety of deep learning projects including one to simplify the workflow of artists and creators using NVIDIA Omniverse, a real-time simulation platform for 3D production pipelines.
"Machine learning is such a powerful tool, and I've been interested in seeing how it can help us solve problems that are simply too complex to tackle with analytic math," Amevor said.
He lives with another NVIDIA intern, which he said has made working from home feel like a mini company location.
Santos Shows Robots the Ropes
Beatriz Santos is an undergrad at California State University, East Bay, studying computer science. She's a software intern working on the Isaac platform for robotics.
Though the pandemic has forced her to social distance from other humans, Santos has been spending a lot of time with the robot Kaya, in simulation, training it to do various tasks.
Her favorite virtual event this summer was the women's community panel featuring female leaders at NVIDIA.
"I loved their inputs on working in a historically male-dominated field, and how they said we don't have to change because of that," she said. "We can just be ourselves, be girls."
Sindelar Sharpens Websites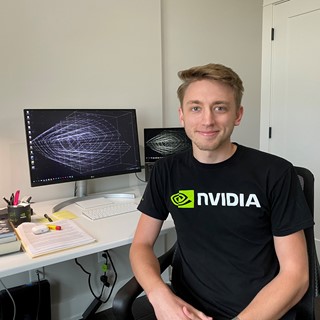 When researching potential summer internships, Justin Sindelar — a marketing major at San Jose State University — was immediately drawn to NVIDIA's.
"The NVIDIA I once knew as a consumer graphics card company has grown into a multifaceted powerhouse that serves several high-tech industries and has contributed to the proliferation of AI," he said.
Using the skills he's learned at school and as a web designer, Sindelar has been performing UX analyses to help improve NVIDIA websites and their accessibility features.
His favorite intern activity was the game show event where he teamed up with his manager and mentors in the digital marketing group to answer trivia questions and fill in movie quotes.
Zhang Zaps Apps Into Shape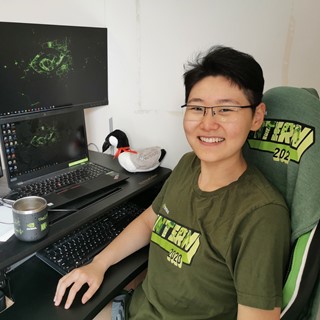 Maggie Zhang is a third-year biomedical engineering student at the University of Waterloo in Ontario. She works on the hardware infrastructure team to make software applications that improve workflow for hardware engineers.
When not coding or testing a program, she's enjoyed online coffee chats, where she formed an especially tight bond with other Canadian interns.
She also highlighted how thankful she is for her team lead and mentor, who set up frequent one-on-one check-ins and taught her new concepts to improve code and make programs more manageable.
"They've taught me to be brave, experiment and learn as I go," she said. "It's more about what you learn than what you already know."
For many interns, this fulfilling and challenging summer will lead to future roles at NVIDIA.
Learn more about NVIDIA's internship program.
The post On Becoming Green: 800+ Interns Enliven Our First-Ever Virtual Internship Program appeared first on The Official NVIDIA Blog.
Read More