Jaguar Land Rover and NVIDIA are redefining modern luxury, infusing intelligence into the customer experience.
As part of its Reimagine strategy, Jaguar Land Rover announced today that it will develop its upcoming vehicles on the full-stack NVIDIA DRIVE Hyperion 8 platform, with DRIVE Orin delivering a wide spectrum of active safety, automated driving and parking systems, as well as driver assistance systems built on DRIVE AV software. The system will also deliver AI features inside the vehicle, including driver and occupant monitoring and advanced visualization, leveraging the DRIVE IX software stack.
The iconic maker of modern luxury vehicles and the leader in AI computing will work together to build software-defined features for future Jaguar and Land Rover vehicles with continuously improving automated driving and intelligent features, from 2025.
The result will be some of the world's most desirable vehicles, preserving the design purity of the distinct Jaguar and Land Rover personalities while transforming the experiences for customers at every step of the journey.
These vehicles will be built on a unified computer architecture that delivers software-defined services for ongoing customer value and innovative new business models. The combination of centralized compute and intelligent features upgraded over the air also enhances supply chain management.
The next step in this reimagination of responsible, modern luxury is implementing safe and convenient AI-powered features.
"Our long-term strategic partnership with NVIDIA will unlock a world of potential for our future vehicles as the business continues its transformation into a truly global, digital powerhouse," said Thierry Bolloré, CEO of Jaguar Land Rover.
End-to-End Intelligence
Future Jaguar and Land Rover vehicles will be developed with NVIDIA AI from end to end.
This development begins in the data center. Engineers from both companies will work together to train, test and validate new automated driving features using NVIDIA data center solutions.
This includes data center hardware, software and workflows needed to develop and validate autonomous driving technology, from raw data collection through validation. NVIDIA DGX supercomputers provide the building blocks required for DNN development and training, while DRIVE Sim enables the necessary validation, replay and testing in simulation to enable a safe autonomous driving experience.
With NVIDIA Omniverse, engineers can collaborate virtually as well as exhaustively test and validate these DNNs with high-fidelity synthetic data generation.
Jaguar Land Rover will deploy this full-stack solution on NVIDIA DRIVE Hyperion — the central nervous system of the vehicle — which features the DRIVE Orin centralized AI compute platform — the car's brain. DRIVE Hyperion includes the safety, security systems, networking and surrounding sensors used for autonomous driving, parking and intelligent cockpit applications.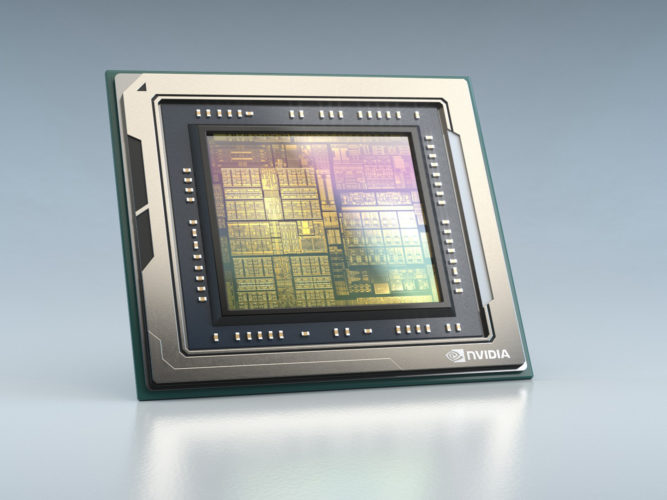 The future vehicles will be continuously improved and supported throughout their lifetimes by some of the world's foremost software and AI engineers at NVIDIA and Jaguar Land Rover.
​​"Next-generation cars will transform automotive into one of the largest and most advanced technology industries," said NVIDIA founder and CEO Jensen Huang. "Fleets of software-defined, programmable cars will offer new functionalities and services for the life of the vehicles."
A Responsible Future
This new intelligent architecture, in addition to the transition to zero emissions powertrains, ensures Jaguar and Land Rover vehicles will not only transform the experience of customers, but also benefit the surrounding environment.
In addition to an all-electric future, the automaker is aiming to achieve net-zero carbon emissions across its supply chain, products and operations by 2039, incorporating sustainability into its long-heralded heritage.
By developing vehicles that are intelligent and backed by the high-performance compute of NVIDIA, Jaguar Land Rover is investing in technology that is safe for all road users, as well as convenient and comfortable.
This attention to responsibility in the new era of modern luxury extends the unique, emotional attachment that Jaguar and Land Rover vehicles inspire for even more decades to come.
The post Reimagining Modern Luxury: NVIDIA Announces Partnership with Jaguar Land Rover appeared first on The Official NVIDIA Blog.