Editor's note: This post is part of our weekly In the NVIDIA Studio series, which celebrates featured artists, offers creative tips and tricks, and demonstrates how NVIDIA Studio technology accelerates creative workflows. 
Viral creator turned NVIDIA 3D artist Lorenzo Drago takes viewers on a jaw-dropping journey through Toyama, Japan's Etchū-Daimon Station this week In the NVIDIA Studio.
Drago's photorealistic recreation of the train station has garnered over 2 million views in under four months, with audiences marveling at the remarkably accurate detail.
"Reality inspires me the most," said Drago. "Mundane, everyday things always tell a story — they have nuances that are challenging to capture in fantasy."
Drago started by camera matching in the fSpy open-source software. This process computed the approximate focal length, orientation and position of the camera in 3D space, based on the defined control points chosen from his Etchū-Daimon reference image.
The artist then moved to Blender software to begin the initial blockout, a 3D rough-draft level built with simple 3D shapes without details or polished art assets. The goal of the blockout was to prototype, test and adjust the foundational shapes of the level.
From there, Drago measured the height of a staircase and extrapolated those proportions to the rest of the 3D scene, ensuring it fit the grid size. The scene could then be built modularly, one model at a time. He modeled with lightning speed using NVIDIA RTX-accelerated OptiX ray tracing in the Blender viewport.
Incredibly, the entire scene is a combination of custom-textured assets. Drago's texturing technique elevated the sense of realism by using tileable textures and trim sheets, which are textures that combine separate details into a single sheet. Mixing these techniques proved to be profitable in creating original, more detailed textures, as well as keeping good pixel density across the scene. Textures never exceeded more than 2048×2048 pixels in size.
Drago created his textures in Adobe Substance 3D Painter, taking advantage of NVIDIA Iray rendering for faster, interactive rendering. RTX acceleration enabled him to quickly bake ambient occlusion and other maps used in texturing, before exporting and applying the textures to the models inside Unreal Engine 5.
Final frame renders came quickly with Drago's GeForce RTX 2080 SUPER GPU doing the heavy lifting. Drago stressed the necessity of his graphics card.
"For a 3D artist, probably the majority of the work, excluding the planning phases, requires GPU acceleration," he said. "Being able to work on scenes and objects with materials and lighting rendered in real time saves a lot of time and headaches compared to wireframe or unshaded modes."
Drago moved on to importing and assembling his textured models in Unreal Engine 5. Elated with the assembly, he began the lighting process. Unreal Engine 5's Lumen technology enabled lighting iterations in real time, without Drago having to wait for baking or render times.
Unreal Engine's virtual-reality framework allowed Drago to set up a virtual camera with motion tracking. This gave the animation its signature third-person vantage point, enabling the artist to move around his creative space as if he were holding a smartphone.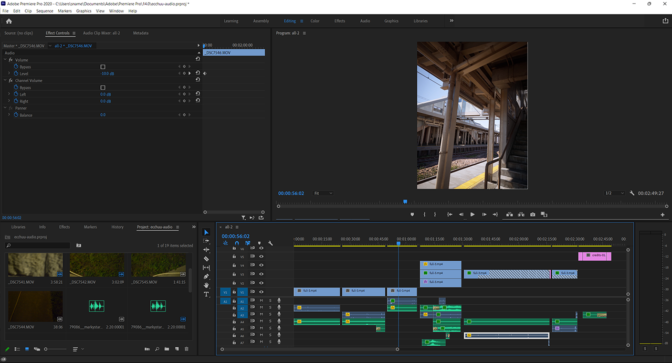 With the renders and animation in place, Drago exported the scene to Adobe Premiere Pro software, where he added sound effects. He also sharpened image details in the animation, one of the many GPU-accelerated features in the software. Drago then deployed GPU-accelerated encoding, NVENC, to speed up the exporting of final files.
Subtle modifications allowed Drago to create ultra-realistic renders. "Mimicking a contemporary smartphone camera — with a limited dynamic range, glare and sharpening artifacts — was a good way of selling the realism," he said.
"RTX features, like DLSS and ray tracing, are amazing, both from a developer's point of view and a gamer's," Drago stated.
Drago recently imported Etchū-Daimon Station into NVIDIA Omniverse, a 3D design platform for collaborative editing, which replaces linear pipelines with live-sync creation. Drago noted the massive potential within the Omniverse Create App, calling it "a powerful tool capable of achieving extremely high-fidelity results."
NVIDIA GTC, a global AI conference running online Sept. 19-22, will feature Omniverse sessions with industry experts to demonstrate how the platform can elevate creative workflows. Take advantage of these free resources and register today.
Follow Lorenzo Drago and view his portfolio on ArtStation.
Continue Your Creative Journey
Drago is a self-taught 3D artist, proof that resilience and dedication can lead to incredible, thought provoking, inspirational creative work.
In the spirit of learning, the NVIDIA Studio team is posing a challenge for the community to show off personal growth. Participate in the #CreatorsJourney challenge for a chance to be showcased on NVIDIA Studio social media channels.
Entering is easy. Post an older piece of artwork alongside a more recent one to showcase your growth as an artist. Follow and tag NVIDIA Studio on Instagram, Twitter or Facebook, and use the #CreatorsJourney tag to join.
It's time to show how you've grown as an artist (just like @lowpolycurls)!

Join our #CreatorJourney challenge by sharing something old you created next to something new you've made for a chance to be featured on our channels.

Tag #CreatorJourney so we can see your post. pic.twitter.com/PmkgOvhcBW

— NVIDIA Studio (@NVIDIAStudio) August 15, 2022
There's more than one way to create incredibly photorealistic visuals. Check out Detailed World Building tutorial by material artist Javier Perez, as well as the three-part series, Create Impressive 360 Panoramic Concept Art, by concept design artist Vladmir Somov. The series showcases a complete workflow in modeling, world building and texturing, and post-processing.
Access free tutorials by industry-leading artists on the Studio YouTube channel. Get creativity-inspiring updates directly to your inbox by subscribing to the NVIDIA Studio newsletter.
The post Ridiculously Realistic Renders Rule This Week 'In the NVIDIA Studio' appeared first on NVIDIA Blog.