Editor's note: This post is part of the weekly In the NVIDIA Studio series, which celebrates featured artists and offers creative tips and tricks. In the coming weeks, we'll be deep diving on new GeForce RTX 40 Series features, demonstrating how NVIDIA Studio technology dramatically accelerates content creation.
NVIDIA artist Sabour Amirazodi demonstrates his video editing workflows featuring AI this week in a special edition of In the NVIDIA Studio.
The talented, versatile artist was asked to attend and capture video from the Electric Daisy Carnival music festival, commonly known as EDC, in Las Vegas this summer. Music festivals are profoundly inspirational for Amirazodi, as such spectacles are only achieved by teams bringing together multiple disciplines to drive unforgettable experiences, he said.
"From music produced by world-class DJs, to incredible visuals designed by the best motion-graphics artists, down to skillful pyro techs and lighting directors, it's a mix of so many creative worlds to create such an amazing experience," said Amirazodi.
To properly capture every finite detail of the action, Amirazodi filmed the entire event in spectacular 12K and 8K resolution with two cameras: the Canon R5 Mirrorless and the Blackmagic URSA Cinema.
Working with such large video files, Amirazodi deployed Blackmagic Design's DaVinci Resolve 18 software to get the editing job done, accelerated by his NVIDIA Studio-powered desktop equipped with four NVIDIA RTX A6000 GPUs.
"Resolve does an incredible job taking advantage of NVIDIA RTX GPUs and using them to accelerate everything from playback to AI-accelerated effects and even encoding for final delivery," Amirazodi said.
AI tools have become increasingly important in video-editing workflows, as 80% of all creative work consists of repetitive, redundant tasks. Reducing, or in some cases eliminating, these tasks frees creators in all fields to focus on experimenting with and perfecting their craft.
Take rotoscoping, the process of creating animated sequences by tracing over live-action footage. Done frame by frame, this is a notoriously slow and lengthy process. Thanks to the Magic Mask feature in DaVinci Resolve, however, AI can mask the selected object and automatically track it through multiple frames. This enables artists to apply specific effects to live footage with a single click. "Rotoscoping is a huge one that used to take me forever to accomplish," said Amirazodi.
This game-changing feature is further sped up, by up to 70%, with the GeForce RTX 40 Series GPUs, compared to the previous generation.
Similarly, the Surface Tracking feature allows AI to track any surface, including uneven ones such as  clothes with wrinkles. Even if the selection morphs and warps, it continues to be tracked, sticking to the surfaces Amirazodi selected.
Depth Map Generation is another AI-powered DaVinci Resolve feature that saved Amirazodi countless hours in the editing bay. By generating a depth map, the artist applied vibrant colors and lens effects like fog, and could blur the background of any clip.
DaVinci Resolve has an entire suite of RTX-accelerated, AI-powered features to explore.
Face Refinement detects facial features for fast touch-ups such as sharpening eyes and subtle relighting. Speed Warp can quickly create super-slow-motion videos with ease. Amirazodi's favorite feature, Detect Scene Cuts, uses DaVinci Resolve's neural engine to predict video cuts without manual edits — it's an incredible boon for his efficiency.
According to Amirazodi, AI is "only scratching the surface" of creative possibilities.
Most AI features require significant computational power, and GeForce RTX GPUs allow video editors to get the most of these new AI features.
The GeForce RTX 40 Series also features new AV1 dual encoders. These work in tandem, dividing work automatically between them to double output and slash export times by up to 50%. GeForce RTX 40 Series graphics card owners gain an instant advantage over fellow freelancers seeking quick exports in multiple formats for different platforms.
The dual encoders are also capable of recording stunning content in up to 8K resolution and 60 frames per second in real time via GeForce Experience and OBS Studio.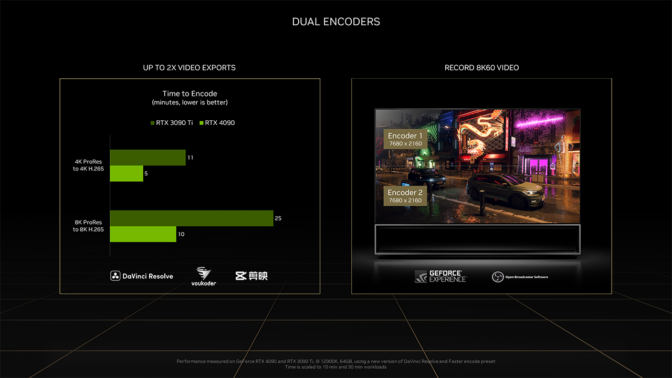 The high-speed decoder allows editors to load and work with RAW footage files in real time for DaVinci Resolve as well as REDCINE-X PRO and Adobe Premiere Pro — without the need to generate lower-resolution files, also known as proxies.
DaVinci Resolve, the popular Voukoder plugin for Adobe Premiere Pro, and Jianying — the top video editing app in China — are all enabling AV1 support, as well as a dual encoder through encode presets, expected in October.
Amirazodi specializes in video editing, 3D modeling, interactive experiences, and is an all-around creative savant. View his work on IMDb.
For more on AI-powered features in DaVinci Resolve, check out this new demo video:
Last Call for #CreatorsJourney Submissions
The NVIDIA Studio #CreatorsJourney contest is ending on Friday, Sept. 30.
Entering is quick and easy. Simply post an older piece of artwork alongside a more recent one to showcase your growth as an artist. Follow and tag NVIDIA Studio on Instagram, Twitter or Facebook, and use the #CreatorsJourney tag to join, like Amanda Melville, who persevered to become an exceptional 3D artist:
3 years of growth
3 years of knowledge
3 years of being glad I stuck through it and keep learning

2019 2022 #gamedev #gameart #tbt https://t.co/qGCs3CNsqH pic.twitter.com/86iivZnmDE

— Amanda Melville (@d0zer_the) August 16, 2022
And Wouter Gillioen, who shared his impressive 3D environments:
2018 vs 2022
Come a long way since 2018, nice to see the difference over the years! #CreatorJourney https://t.co/YbEAN86wOL pic.twitter.com/IFygGpfxyd

— Wouter Gillioen (@WGillioen) August 16, 2022
Or Tom Channelle, who couldn't help being inspired by his fellow artists' progression:
2018 vs 2022

Always fun looking back at stuff like this, super inspiring seeing how everyone has progressed!!#CreatorJourney pic.twitter.com/wMeNJRwY9w

— Tom Channelle (@TomChannelle) August 16, 2022
Get creativity-inspiring updates directly to your inbox by subscribing to the NVIDIA Studio newsletter.
The post Video Virtuoso Sabour Amirazodi Shares AI-Powered Editing Tips This Week 'In the NVIDIA Studio' appeared first on NVIDIA Blog.