Creating content is no longer tethered to using paint and stone as mediums, nor being in massive studios. Visual art can now be created anywhere, anytime.
But being creative is still challenging and time-consuming. NVIDIA is making artistic workflows easier and faster by giving creators tools that enable them to remain in their flow state.
That's what NVIDIA Studio is — an ecosystem of creative app optimizations, GPU-accelerated features and AI-powered apps, powered by NVIDIA RTX GPUs and backed by world-class Studio Drivers.
Our new 'In the NVIDIA Studio,' blog series celebrates creativity everywhere by spotlighting 3D animators, video editors, photographers and more, every week. We'll showcase their inspirational and thought-provoking work, and detail how creators are using NVIDIA GPUs to go from concept to completion, faster than ever.
The series kicks off with 3D artist Jasmin Habezai-Fekri. Check out her work below, created with Unreal Engine, Adobe Substance 3D and Blender, accelerated by her GeForce RTX 2070 GPU.
Habezai-Fekri Dreams in 3D

Based in Germany, Habezai-Fekri works in gaming as a 3D environment artist, making props and environments with hand-painted and stylized physically based rendering textures. She revels in creating fantasy and nature-themed scenes, accentuated by big, bold colors.
Habezai-Fekri's passion is creating artwork with whimsical charm, piquing the interest of her audiences while creating a sense of immersion, rounding out her unique flair.
One such piece is Bird House — a creative fusion of styles and imagination.
With this piece, Habezai-Fekri was learning the ins and outs of using Unreal Engine, while trying to replicate "something very 2D-esque in a 3D space, giving it all a very painterly yet next-gen feeling." Through iteration, she developed her foundational skills and found that having a set art direction and visual style gave it her own signature.

Habezai-Fekri uses Blender software for modeling and employs Zbrush for her highpoly sculpts to help bring stylized details into textures and models. The fine details are critical for invoking the real-life emotions she hopes to cultivate. "Creating immersiveness is a huge aspect for me when making my art," Habezai-Fekri said.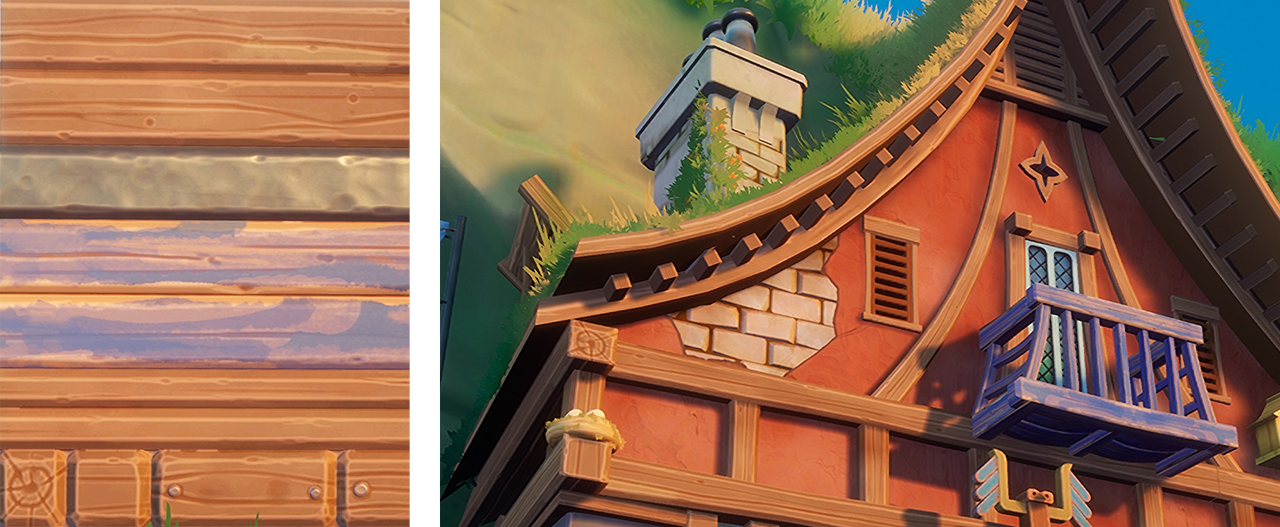 Looking closer reveals Habezai-Fekri's personal touches in the textures in Bird House — she hand-painted them in Adobe Substance 3D Painter. RTX GPU-accelerated light and ambient occlusion in Substance 3D helps speed up her process by outputting new textures in mere seconds.
"Having a hand-painted pass on my textures really enhances the assets and lets me channel that artistic side throughout a heavily technical process," she said.
"In our industry, with new tools being released so frequently, it's inevitable to constantly learn and expand your skill set. Being open to that from the start really helps to be more receptive to it."
Habezai-Fekri's work often uses vivid colors. To make it look inviting and friendly, she purposely saturates colors, even if the subject matter is not colorful by nature.
Habezai-Fekri also finds inspiration in trying new tools and workflows, particularly when she sees other artists and creatives doing amazing work.
By partnering with creative app developers, the NVIDIA Studio ecosystem regularly gives Habezai-Fekri new tools that help her create faster. For example, RTX-accelerated OptiX ray tracing in Blender's viewport enables her to enjoy interactive, photorealistic rendering in real time.
RTX GPUs also deliver rendering speeds up to 2.5x faster with Blender Cycles 3.0. This means a lot less waiting and a lot more creating.
Everything comes together for Habezai-Fekri with the application of final textures and colors in Unreal Engine. NVIDIA RTX GPUs feature advanced capabilities like DLSS, which enhances interactivity of the viewport in Unreal Engine by using AI to upscale frames rendered at lower resolution, while still retaining detail.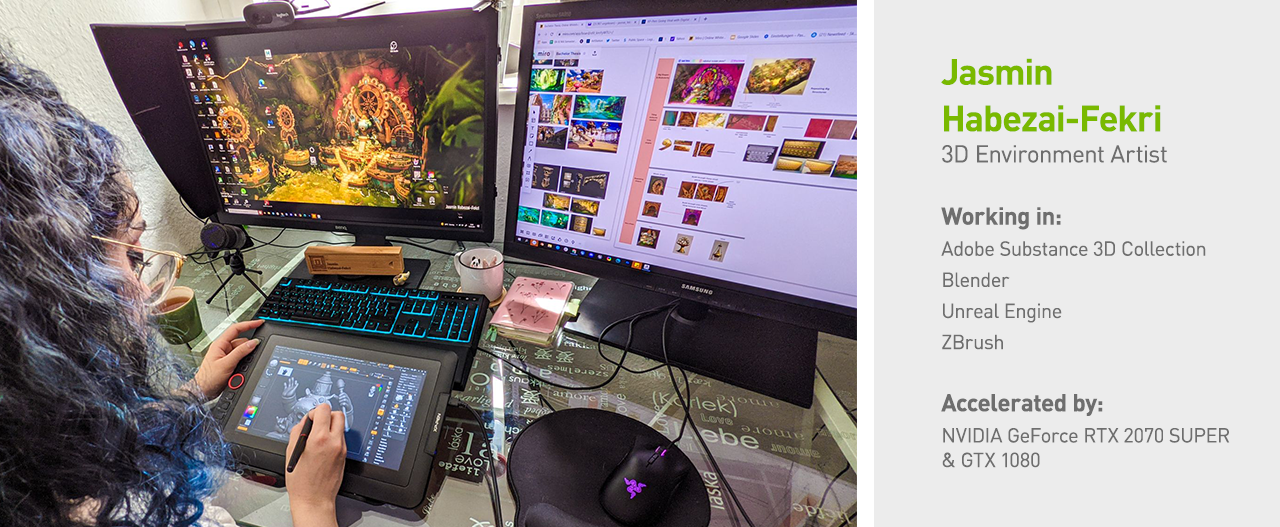 Habezai-Fekri works for Airship Syndicate. Previously, she has been an artist at Square Enix and ArtStation. View her work on ArtStation, including a new learning course providing project insights.
NVIDIA Studio Resources
Habezai-Fekri is one of the artists spotlighted in the latest Studio Standouts video, "Stunning Art From Incredible Women Artists."
See more amazing digital art in the video from Yulia Sokolova, Nourhan Ishmai, Ecem Okumus and Laura Escoin.
Learn more about texturing in Substance 3D Painter by exploring artist and Adobe Creative Director Vladimir Petkovic's series, "From Texturing to Final Render in Adobe Substance Painter."
Join the growing number of 3D artists collaborating around the globe in real time, and working in multiple apps simultaneously, with NVIDIA Omniverse.
Check back In the NVIDIA Studio every week to discover new featured artists, creative tips and tricks, and the latest NVIDIA Studio news. Follow NVIDIA Studio on Facebook, Twitter and Instagram, subscribe to the Studio YouTube channel and get updates directly in your inbox by joining the NVIDIA Studio newsletter.
The post Welcome 'In the NVIDIA Studio': A Weekly Celebration of Extraordinary Artists, Their Inspiring Art and Innovative Techniques appeared first on NVIDIA Blog.