GauGAN, an AI demo for photorealistic image generation, allows anyone to create stunning landscapes using generative adversarial networks. Named after post-Impressionist painter Paul Gauguin, it was created by NVIDIA Research and can be experienced free through NVIDIA AI Demos.
How to Create With GauGAN
The latest version of the demo, GauGAN2, turns any combination of words and drawings into a lifelike image. Users can simply type a phrase like "lake in front of mountain" and press a button to generate a scene in real time. By tweaking the text to a "lake in front of snowy mountain" or "forest in front of mountain," the AI model instantly modifies the image.
Artists who prefer to draw a scene themselves can use the demo's smart paintbrush to modify these text-prompted scenes or start from scratch, drawing in boulders, trees or fluffy clouds. Clicking on a filter (or uploading a custom image) allows users to experiment with different lighting or apply a specific painting style to their creations.
AI Behind the GauGAN2 Demo
At the heart of GauGAN2 are generative adversarial networks, or GANs — a kind of deep learning model that involves a pair of neural networks: a generator and a discriminator. The generator creates synthetic images. The discriminator, trained on millions of real landscape images, gives the generator network pixel-by-pixel feedback on how to make the synthetic images more realistic.
Over time, the GAN model learns to create convincing imitations of the real world, with mountains reflected in AI-generated lakes and trees losing their leaves when a scene is modified with the word "winter."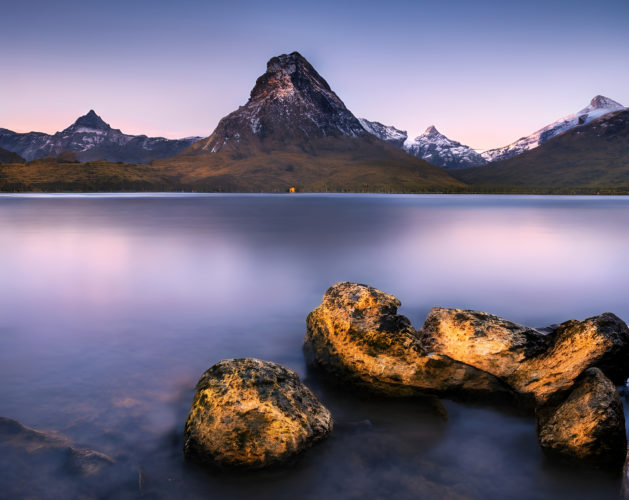 When users draw their own doodle or modify an existing scene in the GauGAN2 demo, they're working with segmentation maps — high-level outlines that record the location of objects in a scene. Individual areas are labeled with features like sand, river, grass or flower, giving the AI model instructions on how to fill in the scene.
GauGAN has been wildly popular since it debuted at NVIDIA GTC in 2019 — it's been used by art teachers in schools, in museums as an interactive art exhibit and by millions online.
Art directors and concept artists from top film studios and video game companies had been among the creative professionals interested in GauGAN as a tool to prototype ideas for their work. So NVIDIA Studio, a platform to assist creators, came out with a desktop application: NVIDIA Canvas.
NVIDIA Canvas brings the technology behind GauGAN to professionals in a format compatible with existing tools like Adobe Photoshop, and lets artists use NVIDIA RTX GPUs for a more fluid, interactive experience.
To learn more about the AI behind GauGAN, register free for NVIDIA GTC and tune in to the session "Expressing Your Imagination with GauGAN2," Thursday, March 24, at 10 a.m. Pacific.
NVIDIA GTC runs online March 21-24. To hear the latest in AI research, tune in to the keynote address by NVIDIA CEO Jensen Huang on March 22 at 8 a.m. Pacific.
The post What Is GauGAN? How AI Turns Your Words and Pictures Into Stunning Art appeared first on NVIDIA Blog.